Yo guys,
Just a quick message to say that I've not forgotten about this blog.... I have just been mega busy over christmas and new year. It's my birthday on friday and then I'm moving into a new flat on the monday afterwards (hopefully...just waiting for references to go through).. it's a BEAUT, man... I went viewing loads of places which were all dives, then I found this one place and really really liked it...but lost out to some smarmy arsed girls - SERIOUSLY...I had booked to view this property at 12.15 (the earliest slot) and when we turned up, 2 other couples who had a viewing at 12.30 decided to crash in on my viewing aswell... anyway, the flat was gorgeous, all newly decorated, just a little small..and I enquired about applying for it and started walking back to the estate agents...then, I saw the smarmy girls drive past me and get in the shop and apply for it before me.. I wandered in and they flashed me this snobby smile and well yeah, that's it really....they were super annoying, but I'm glad they got it because I wouldn't have gotten this place: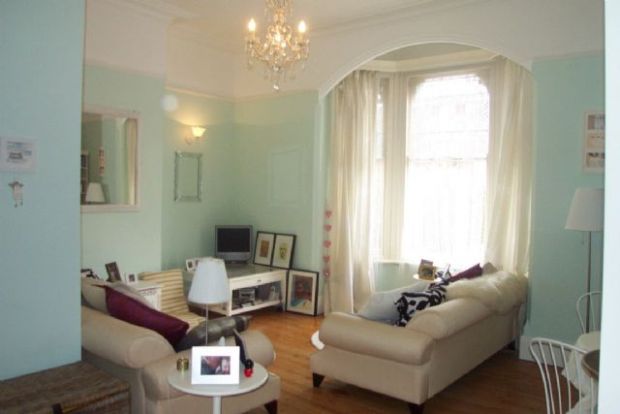 The same day, after I'd viewed the other place and was moping around knowing that I probably hadn't got it, I viewed this baby..and it is lovely!...the ceilings are SO high and even though the bedroom is small the lounge just makes up for it.. OH, and it has a BATH! (I've been living for almost 2 years without one and I hate it!)...can't wait to move in.
In other news...we went down to Devon for NYE and was told the local pub were having a Titanic themed party...so me and Ben went to the only charity shop and picked up some old fashioned accessories (as we were unprepared).. I was gutted that I didn't still have my ginger hair.....my Rose costume was incomplete without that.. :P
Here's me and Ben looking wasted..even though we hadn't even got to the pub:
and here's a slightly better view of our outfits...my dress is from Forever 21.. gloves and hat were from the charity shop:
Oh and yesterday I topped up my hair colour with darkest brown....yeah it's now blue black..(and I kinda love it).
CATCH YOU LATER, HOT POTATA XXX